Clayton Fletcher's Corporate Seminar
Clayton Fletcher is available for private corporate functions. His brand of clean, intelligent comedy is perfect for your office party or special event. His comedy workshop was recently featured on MSNBC.
See the video on the American Express OPEN Forum: American Business: LOL LLC : Marketing :: American Express OPEN Forum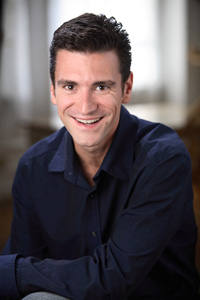 What's more, Clayton Fletcher works extensively as a corporate trainer. His unique seminar, "Why We Should Mix Comedy and Business," is a fun, interactive look into the use of comedy techniques in client, business-to-business, and business-to-consumer relations. Whether used as a creative way to jazz up client presentations, or as an exciting team building exercise, this seminar will increase productivity, and fun, in your workplace. Here are some recent remarks about this amazing seminar:
"Clayton Fletcher has made a dramatic difference in the way Peppercom thinks about new business, current business and our own business. We better understand the power of humor as an ice breaker, a deal maker and relationship builder. Add in the incredible nuances that can be learned from a presentation skill standpoint and you have a first-class management development program on your hands. In an era when we're bombarded with non-stop doom-and-gloom, it's amazing to see how powerful a weapon humor really can be."
Steve Cody
Managing Partner & Co-Founder
Peppercom
"As PR professionals, most of us have experienced a moment of connection with a reporter, client or new business prospect that has helped them better engage with the story we're pitching. Many of us would pay dearly for the formula that allowed us to make that kind of connection on a consistent basis. Clayton Fletcher's approach to engagement through humor is one such formula. He teaches how to break the ice, build rapport with audiences, and put your unique personality to work for you. Most importantly, everyone can do it. You don't have to be a great presenter. And you don't have to be funny. Trust me."
Robert Dowling
GM, North American Technology Practice
Weber Shandwick
This seminar is so popular it was even featured in a recent issue of Advertising Age magazine. Click here to read the article
For more information, please contact Clayton here